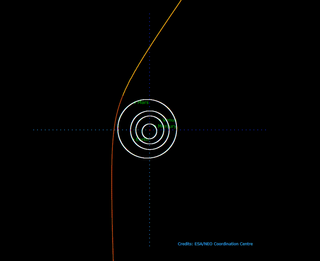 A depiction of the path of Comet C/2019 Q4, which may be the second interstellar object detected to date.(Image: © ESA)
At first, it was just another bright, fuzzy speck in the sky. But it may turn out to be something much more exciting: the second known object to hurtle through our solar system after leaving another system.
Astronomers will need a lot more observations before they can be confident giving the comet that title, but early data about the object seems promising. That would make the comet, currently known as Comet C/2019 Q4 (Borisov) after the person who first spotted it, the first traveling successor to the interstellar object 'Oumuamua, which was discovered in October 2017.
"Based on the available observations, the orbit solution for this object has converged to the hyperbolic elements shown below, which would indicate an interstellar origin," read the Minor Planet Electronic Circular about the object.
Such a statement is issued on behalf of the International Astronomical Union by the Smithsonian Astrophysical Observatory when observers have registered enough data about an object to begin calculating its path through space.
The vast majority of asteroids and comets that astronomers have tracked to date follow an elliptical orbit: oval or egg-shaped or nearly circular. These objects spend eons looping through the solar system, perhaps kicked around a bit after straying too close to a planet and getting tugged off course. They were made in our solar system and remain trapped here, pacing around the sun's mass.
But as the Minor Planet Electronic Circular noted, for C/2019 Q4, the data so far suggest that its path is a hyperbola, with the object arcing in from beyond our solar system and destined to leave the neighborhood again soon. That's a trajectory scientists have so far seen only from 'Oumuamua, although estimates suggest that these visitors should charge through our solar system fairly regularly. (A few months ago, scientists suggested a meteorite that hit Earth in 2014 may also have been interstellar.)
A Crimean skywatcher named Gennady Borisov made the first sighting of C/2019 Q4, on Aug. 30, and caught sight of it again two days later. Since then, six other astronomers have filed observations to the Minor Planet Center's data hub, which houses the Minor Planet Electronic Circular. The data cover Aug. 30 to Sept. 8.
Corey S. Powell@coreyspowell · Sep 10, 2019
Astronomers may have spotted an interstellar comet heading into the solar system. Still uncertain, but we should know more in another week or two. https://twitter.com/Yeqzids/status/1171491124772368384 …YE Quanzhi@YeqzidsNEOCP (==near-Earth object confirmation page) object gb00234 still baffles folks. Could it be the second interstellar object and the first interstellar comet? New observations are in, but the orbit solution is still interstellar. https://twitter.com/cbellh47/status/1171449806138404865 …
Here's an image of the possible interstellar comet, taken by G. Borisov, who discovered it. (HT @TM_Eubanks)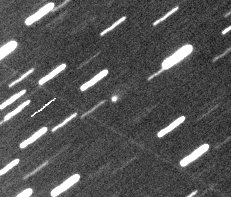 803:36 AM – Sep 11, 2019Twitter Ads info and privacy26 people are talking about this
Astronomers hope that those sightings will soon have plenty of company. "Further observations are clearly very desirable, as all currently available observations have been obtained at small solar elongations and low elevations," the circular continued.
And there should be plenty of opportunities for observers to gather more data about C/2019 Q4. The search may need to pause for a month or so because of the object's proximity to the sun, but Borisov spotted the comet early enough in its journey that astronomers should be able to study it for at least a year, according to the circular. That's in stark contrast to 'Oumuamua, which was already waving goodbye to our solar system when scientists spotted it.
Comet C/2019 Q4, in contrast, is the kind of interstellar candidate that the European Space Agency (ESA) hopes to study via a mission called Comet Interceptor in just a few years. That mission consists of a trio of spacecraft that ESA wants to send to an Oort Cloud object or an interstellar object, depending on what observations are available as planning progresses.
According to a statement from ESA, C/2019 Q4 is a couple miles (a few kilometers) across and will pass closest to the sun, about 186 million miles (300 million km) away from the sun, in early December. That's about twice the average distance between Earth and the sun.
1st Color Photo of Interstellar Comet Reveals Its Fuzzy Tail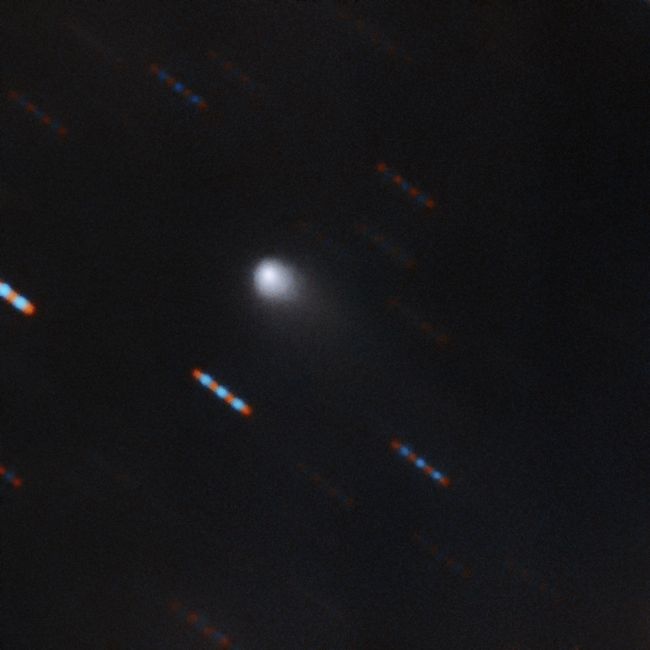 Astronomers have taken the first color photo of a potentially interstellar comet, and it looks spectacular.
The colored image allowed astronomers to spot a comet tail, which is the product of gases flowing off its surface. This tail is unique among the suspected interstellar visitors to our solar system. Of course, there have only been two such guests so far — this comet, named Comet C/2019 Q4 (Borisov), and 'Oumuamua, which is a long asteroid or space rock with no obvious gases flowing from its surface.
Astronomers nabbed the view the night of Sept. 9-10 using the Gemini Multi-Object Spectrograph on the Gemini North Telescope on Hawaii's Mauna Kea.
"This image was possible because of Gemini's ability to rapidly adjust observations and observe objects like this, which have very short windows of visibility," Andrew Stephens, who coordinated the observations at the Gemini Observatory, said in a statement. "However, we really had to scramble for this one since we got the final details at 3:00 a.m. [local time] and were observing it by 4:45!"
The comet was discovered by Russian amateur astronomer Gennady Borisov on Aug. 30. Right now its path in the Earth's sky brings it close to the sun, making it difficult to observe because it is best visible in twilight. In the next few months, the comet is expected to move further away from the sun — making it easier to see.
For these new Gemini observations, the astronomical team obtained them thanks to a target-of-opportunity program led by Piotr Guzik and Michal Drahus at the Jagiellonian University in Krakow, Poland. A research paper, led by Guzik, was uploaded to the preprint server Arxiv on Thursday (Sept. 12) and has been submitted to a journal for publication. (Papers on arXiv are not yet peer-reviewed.)
Astronomers aren't certain if this comet originated from outside our solar system, because its path through space isn't well defined. So far, however, the data suggests that its path is a hyperbola — meaning that it is dipping into the solar system before flying out again. Most comets and asteroids tracked in the solar system have elliptical orbits, which range from nearly circular to egg-shaped to long-looped orbits.