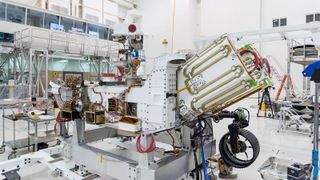 NASA's Perseverance Mars rover displaying where its MMRTG would be inserted, between the panels on the right marked by gold tube, before the power system was inserted.(Image: © NASA/JPL-Caltech)
A spacecraft is only as strong as its power source, which is why when NASA was designing its Perseverance Mars rover, the agency turned to radioactive plutonium.
The plutonium that will be blasting off the planet on Thursday (July 30) isn't in the same form as is used for weapons, and it's well protected in case something happens to go wrong during the launch. But these plutonium units are a respected power source for spacecraft — NASA's Curiosity rover runs on a similar device.
"NASA likes to explore, and we have to explore in some very distant locations, dusty locations, dark locations and harsh environments," June Zakrajsek, a nuclear fuel expert at NASA's Glenn Research Center in Ohio, said in a Department of Energy (DOE) podcast about the Perseverance mission. "When we're in those kinds of environments, solar energy sometimes does not provide the power that we need. The light just does not get to those locations like we would need it."