While most people – believers and sceptics alike – almost certainly imagine space travel and aliens when they hear the term UFO, there are many other theories on offer. Might these strange sightings be of time-travellers for example instead of aliens? Might they be nothing more than "phantom" sightings – some type of "rip" in space time that allows us to peek into the future or the distant past?
One particularly interesting alternative theory is that what we are actually witnessing are visitations from another dimension, as opposed to from another planet.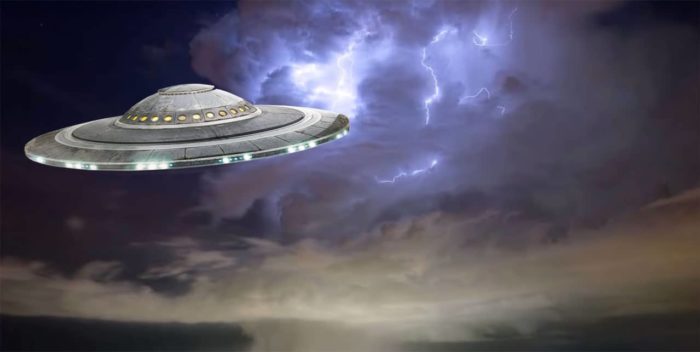 In June 2016 a story appeared online that appeared to show a UFO entering a portal before completely disappearing into it. The event was captured on video and from start to finish lasted less than sixty seconds. A low rumbling sound is also audible throughout the recording.
You can check out the original video posting of this alleged incident below.
Declassified FBI Document Speaks Of "Inter-Dimensional" Beings
There have been many declassified FBI documents relating to UFO activity, and at least one refers to "beings" from another dimension to ours.
What is interesting about the document is that it is dated 8th July 1947 – the same date as the Roswell UFO incident. The document writer acknowledges that the claims made within it are likely to be ignored, but the fact that they are put in front of the FBI in order to investigate is intriguing enough.

Perhaps one of the key parts of the declassified paper is the nine bullet points that highlight key information regarding "a very serious situation that may develop at any time with regard to the "flying saucers". These can be found on page 22 of the declassified file in question. In full these bullet points read:
Part of their disks carry crews, others are under remote control
Their mission is peaceful. The visitors contemplate settling on this planet.
These visitors are human-like but much larger in size.
They are NOT excarnate earth people, but come from their own world.
They do NOT come from any "planet" as we use the word, but from an etheric planet which interpenetrates with our own and is not perceptible to us.
The bodies of the visitors, and the craft, automatically materialize on entering the vibratory rate of our dense matter.
The disks possess a type of radiant energy or ray, which will easily disintergrate any attacking ship. They re-enter the etheric at will, and so simply disappear from our vision without trace.
The region from which they come is not the "astral plane", but corresponds to the Lokas or Talas. Students of osoteric matters will understand these terms.
They probably can not be reached by radio, but probably can be by radar, if a signal system can be devised for that (apparatus).
The idea that these UFOs are not travelling through space to get here, but simply materializing in to our plain of perception upon hitting the "vibratory rate" is one that has been theorised before this document was made public.