Under the waters of Lake Baikal in 1982, 7 Russian divers are exploring the world deepest freshwater lake on a research mission, but 50 metres underwater, strange humanoid creatures appear and in an attempt to capture one of them, all the divers are pushed up to the top by an unknown force. Who were these creatures and what can we learn from this encounter?
Curious reports of extra-terrestrials pulling Steven Spielberg to Siberian jewel Baikal.
True or not about Spielberg's interest, the lake is perhaps the biggest focus of UFOs in Russia. Picture: othereal.ru
Since ancient times, the vast Lake Baikal has been known as deeply mysterious, but in the closing years of the Soviet era, and since, it has been the location of a number of alleged sightings of aliens and UFOs.
Initially these were covered-up by the authorities of the USSR, but later they were revealed by the Russian media.
In recent days there have been unconfirmed reports in Russia that American director Steven Spielberg is planning a documentary based on these weird and unexplained accounts. At the time of writing, this appeared to be a hoax, though it was unclear who planted stories in the Russian media.
True or not about Spielberg's interest, the lake is perhaps the biggest focus of UFOs in Russia.
The versions of extra-terrestrial activity at Baikal – edged by mountains and containing one-fifth of the world's unfrozen freshwater – relate to supposed aliens seen by military divers in its depth, and large 'spaceships' hovering over its grey, moody expanses.
Some of the images here show what two photographers claimed were UFOs buzzing the lake, while others are mock-ups from NTV based on descriptions of an incident at Kudara-Somon, in Buryatia, exactly a quarter of a century ago.
A number of sightings also indicate bright 'cigar-shaped' objects in the sky flying over Baikal, as in the top picture.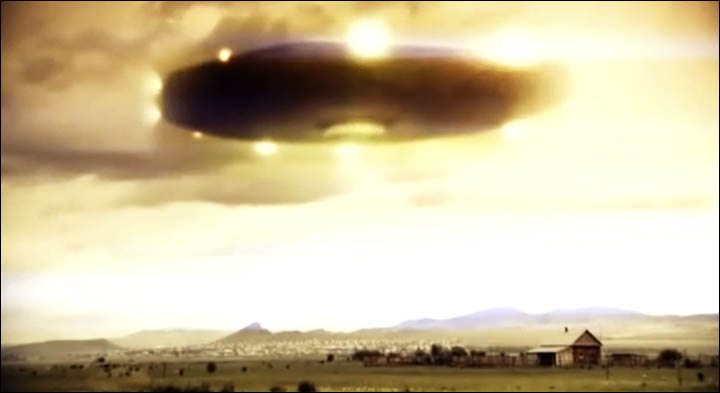 ---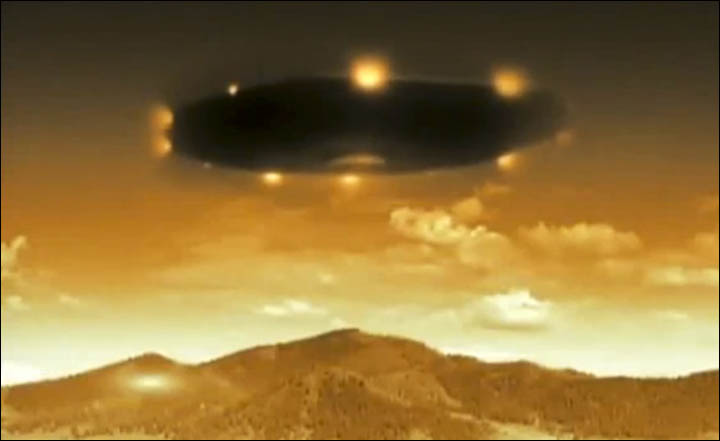 NTV channel mock-up of 'flying saucer' based on accounts by residents of Kudara-Somon village in 1990. Pictures: NTV
A case for which there were no images, but an intriguing description, occurred at Kurma, Irkutsk region, in 17 April 1987. The words that follow are from Valery Rudentsov, a local resident of nearby Shida village:
'There was 13 of us. At about 12.20am, one of our guys went out into the yard, a few seconds later runs, and calls all of us out. He stood in the centre of the yard and pointed his finger at the sky.
'Diagonally from his gesture – 150 metres above us – hung a huge flying saucer. From the centre of the plate went a phosphorescent purple ray. And at the edges of the plate were yellow portholes, almost like in our rural houses. The diameter of the plate was 70 metres. We saw it so clearly and for a long time, someone even suggested he throw a stone at it …
'The weather was amazingly quiet, no sound was heard from the hanging saucer, although behind us was the village of Kurma – there was the noise of a dog barking, the lowing of cows. We were spellbound.
'It was a full moon and the visibility was so clear that no one of us could doubt the reality of what we saw. And then the plate slid smoothly away, sailed along the shore of the bay and further slipped into the hills of Olkhon. Neither before nor after have I ever met such a thing.
'But since that time it has been a kind of sacrilege to me – not to believe in UFOs. My friend Alexander, a hunter, and his colleagues who lived there for 20 years, often see UFOs – and all is fine, he is still alive. So if to speak about glowing balls or 'cigars', we constantly see these on the shores of Lake Baikal. They exist.'
The case highlighted by NTV channel was on 16 May 1990 in the village of Kudara-Somon, in Kyakhtinsky district, some 300 km from Ulan-Ude, capital of the Republic of Buryatia.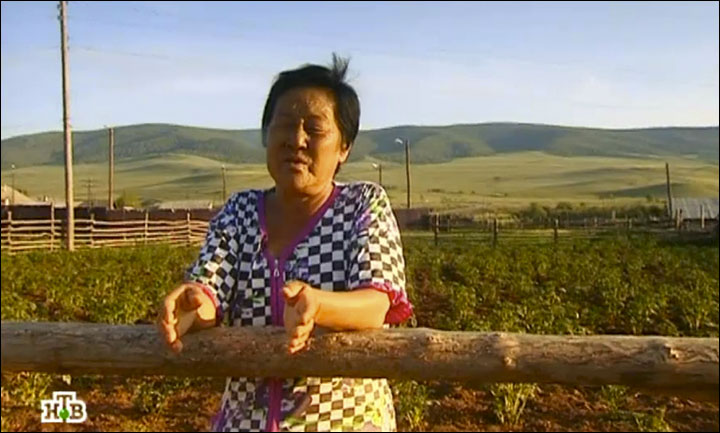 ---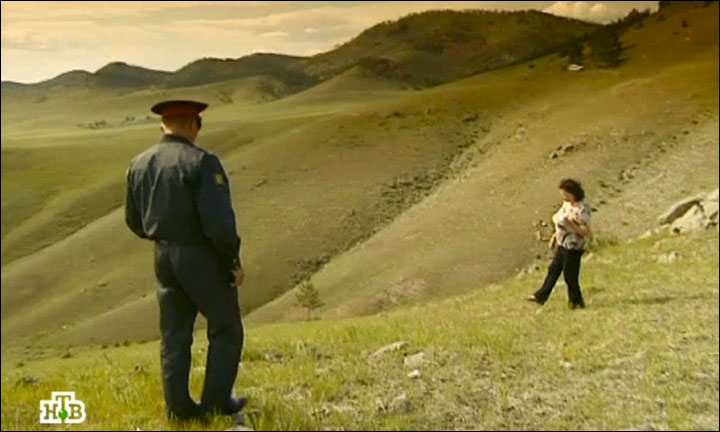 ---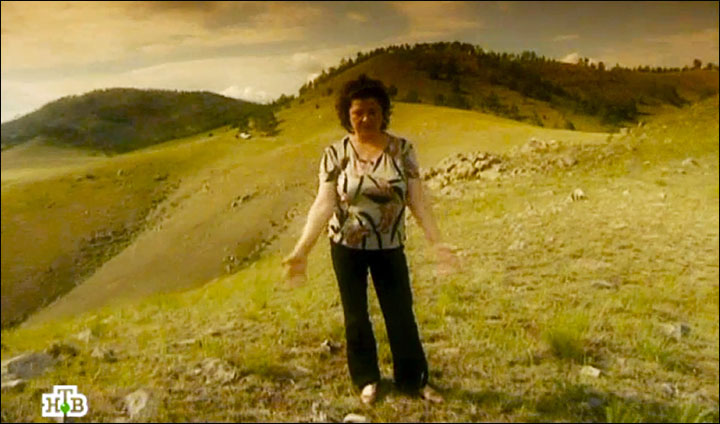 Margarita Tsybikova recalls the UFO's visit to Kudara-Somon. Marina Zimireva shows where the 'flying saucer' landed. Pictures: NTV
Olga Fedorova, a local resident, recalled: 'At some moment everything turned yellow. My daughter came home from school. I looked – her face was yellow.'
The explanation soon became clear, according to accounts from villagers.
Vasily Timofeev spoke of a flying saucer. 'Its diameter was around 30 meters, it shone brightly. But I did not see a clear image of metal or something like this.'
Another resident Margarita Tsybikova said: 'From this dish came down people in shiny, shimmering costumes.' Olga explained: 'There were people, as far as I remember, three people in shining yellow suits. Seems there were people, yes.'
Marina Zimireva, who also says she witnessed this extraordinary sight, said: 'It was some kind of circle, it can be said, it was like a disk. It turned on the edge and and, well, windows were visible.
'I personally decided for myself that they were people. They had some human image. They were the same – straight, slender, they had arms and legs. And their gait was the same as ours. A little lower down there were three in orange suits. They went down from the disk like a man – the steps were very visible.'
Then, as they recounted the strange event, the 'aliens' saw the people watching them. They returned to their spaceship and flew away.